REGISTRATION CLOSES AT MIDNIGHT ET!
Yes, You Can Build a Thriving Nonprofit
without burning out!
Are you ready to raise more money, serve more people, and create lasting change?
Are you ready to invest in yourself and grow as a leader?
Are you ready to bring balance to your life, even if it feels like that's not possible?
Then you are exactly where you need to be right now.
You're a leader at your nonprofit.
An Executive Director
You'll do whatever it takes for those you serve, even if it means sacrificing your pay… your free time… your relationships… even your health.
A Senior Staffer
You're concerned that your organization might not be focused on what will get you to the next level.
A Founder
You've gotten your nonprofit off to a good start but you know you could have a much bigger impact and would just love a clear path.
A Board Leader
You care deeply about your cause and passionately want to help your organization become sustainable for the long haul.
You're ready to grow…
… your new 501(c)3 and you want to make sure you're starting off the right way.
You're a "nonprofit veteran"…
… and you've been at this thing for a long time, but you're burning out and looking to rediscover your passion.
<   To me, that makes you a superhero.  >
And you're deeply invested in your mission.
You are trying to change the world and it matters so much! More than money. More than just about anything.You put everything you have into your organization.
You'll do whatever it takes. That's how important your work is to you and to those you serve.
But you can't help but wonder if there's a simpler way…
But does it need to be SO stressful?
So much personal sacrifice. So overwhelming.
It feels like everything rests on your shoulders. Like you couldn't possibly have enough help.
But what if, instead, you could have a much bigger impact and still have time to devote to outside passions, to your friends and loved ones, to take care of yourself and rejuvenate?
Not only is it possible... it's possible for YOU.
And I can teach you how.
"There are three keys – three "big rocks" – that you need to focus on if you want to build a thriving nonprofit without getting overwhelmed."
Hi, I'm Joan Garry
A champion for leaders of nonprofits – especially the small and mighty nonprofits that sometimes take over our lives.
I have played every position on the nonprofit field – Executive Director, board member, donor, volunteer…
And now I help nonprofits thrive as a management and leadership consultant, an executive coach, a best-selling author, a popular blogger and podcaster, and a highly sought after public speaker and media spokesperson.
I have a whole lot to teach nonprofit leaders.
And I absolutely ❤️ my clients!
It is such a privilege to help those who do so much good in the world.
I love that I get to help them do it even better.
As a founder of a new and rapidly growing organization, having a thought partner was invaluable. Joan helped us make tough decisions starting with the structure of our organization and strengthening our board. Joan is wise but lighthearted – clear and her advice is immediately actionable.
Joan was phenomenal. We set out difficult goals including working with staff and board more efficiently, finding a better work-life balance and making me an external voice for the organization.
Joan was instrumental in assisting with managing through a crisis, and then providing consultation to the senior leadership on communication and messaging. Her involvement in the organization was invaluable.
Joan teaches, mentors, instructs, strategizes and diagnoses how I can be the best that I can be.

She not only gets it from the CEO's perspective, but also the board chair's side

. I'm far clearer about what my strategic priorities are.
But then I thought, what if I could also help thousands of smaller nonprofits?
In many ways smaller nonprofits have it tougher.
After all, well-funded nonprofits can afford outside help.
They can hire consultants, coaches, fundraising experts. Their boards can get outside training, spend for professional development opportunities or expensive donor software.
That's a big advantage.
You're juggling everything at once.
Raise the money. Serve the clients. Oversee the finances. Run the board. Write the emails. Post on Facebook. Craft the grant proposals. Hire the staff. Manage the volunteers.
And on and on…
You feel exhausted and overwhelmed a lot of the time. And sometimes you feel all alone. Like if you took a vacation, all the work would just stop.
Trying to do it all is the fastest way to burnout.
You HAVE to prioritize!
Yes, Prioritize!
And nonprofit leaders kinda suck at it.
But knowing what to prioritize – and how to focus on these priorities for the long haul – is what separates
high-impact nonprofit leaders
from those who are
overwhelmed
and
stuck
. What I've learned working with hundreds of one-on-one clients and thousands of organizations in the Nonprofit Leadership Lab is that
there are THREE things you must prioritize
as a nonprofit leader.
Your "Twin-Engine Jet"
When you have a great partnership between your staff and board, you will be thought partners, and you will have expanded your capacity.
Folks willing and able to introduce your organization to their contacts.
People who are committed to being ambassadors and champions for your organization.
When you fly with two engines in sync – your staff and board engines – you've got a whole lot more power.
Your "Army of the Engaged"
This is a huge missing piece in the "I need to scale my organization AND I want my life back" puzzle.
When you reach more people, fire them up about your organization's mission, and invite them to join you in the work, everything changes for you.
This is how you grow your reach, your resources, and your organization's bank account.
It's the only way to have an outsized impact, well beyond the size of your organization.
Your Professional Development
Professional development has a huge ripple effect.
When you invest in yourself, you build self confidence.
You become more inspiring, both to the board, staff (if you're lucky enough to have staff), and external stakeholders.
You model the kind of work-life balance you want to see in those around you.
All of this work will make it easier to attract amazing staff members and leads to better staff retention.
---
Inside the Nonprofit Leadership Lab
We focus on these 3 BIG PRIORITIES
---
And now I'd like to share the
NONPROFIT LEADERSHIP LAB with you
The challenge with private consulting is that I can only serve a small group of people. I knew more people could benefit from what I was teaching. That's why I created the Nonprofit Leadership Lab and if you join us, I'd love to help you too.

If you're an Executive Director or founder who wants to make the best use of your time…

OR… you're a board leader who wants to help your organization become sustainable for the long haul…

OR…  you're a nonprofit "veteran" who is burning out and looking to redisover your passion…
The Nonprofit Leadership Lab can help.
 Since 2017, the Lab has helped more than 4,000 organizations to dramatically increase their impact and to allow their leaders more time for lives outside of work.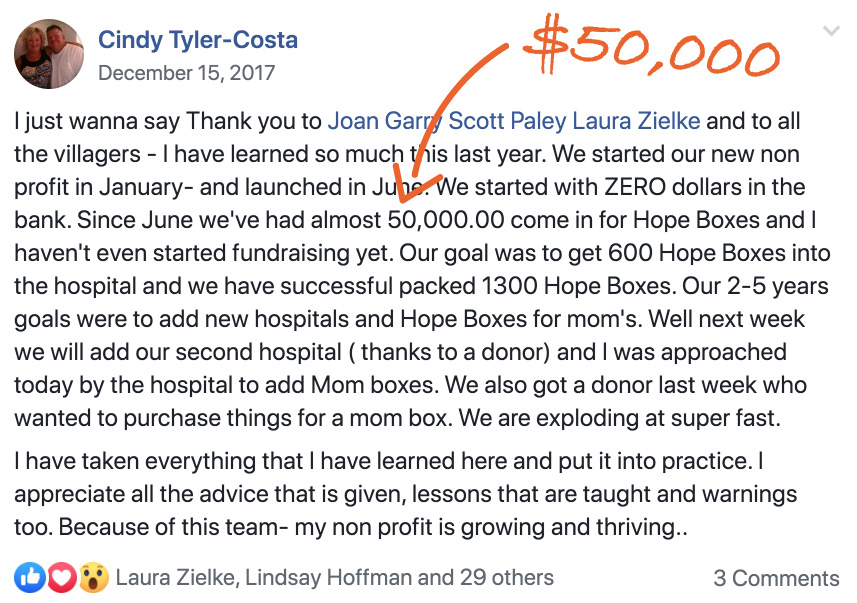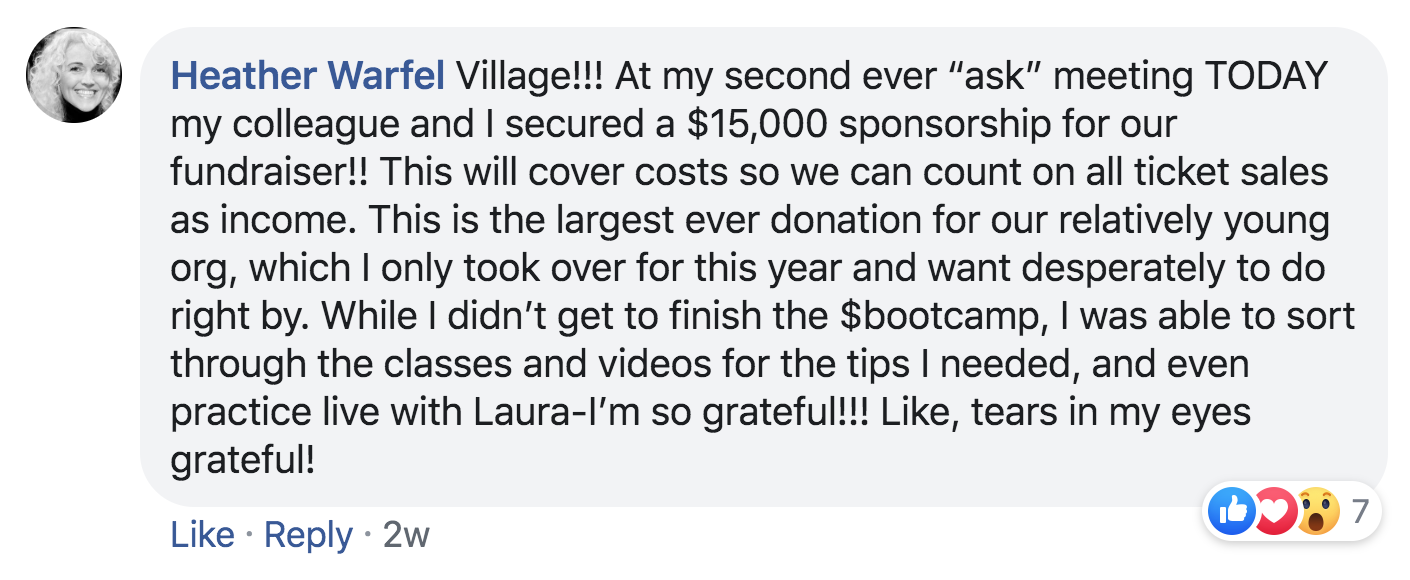 There's so much wisdom right there at your fingertips. You can post a question and within minutes other Lab members chime in with their knowledge. I know I have avoided some major mistakes being a first time Executive Director because I am part of this Lab. 
I feel like I have a personal mentor right by my side
, teaching me the tricks of the trade. The classes in the Lab have been a game changer.
So what is the Nonprofit Leadership Lab?
The Lab offers the core of what my coaching provides plus the on-demand education, support, and inspiration you need.
And it allows me to become your teacher, your mentor, your guide.
Most importantly, the Lab provides thes support, the accountability, the shot in the arm, the "high fives" celebraing each others' accomplishments that we all need. It helps to remind you that working in the nonprofit sector is a joy!
That you fight to protect the rights of immigrants or LGBTQ people. That you find shelter for the homeless. That you work to find the cure to a life-threatening disease. That you provide access to education for at-risk populations or fight against human trafficking. To know the difference you get to make, again and again, in people's lives.

---
What you'll gain from the
Nonprofit Leadership Lab
---
Clarity and Knowledge
While there is a tremendous amount of educational content inside the Lab, we make it really easy to find the answers to whatever challenges you're facing.
Kindred Spirits
We have a remarkable and generous community of nonprofit leaders inside the Lab from around the world. We constantly help and support each other, cheer each other on, and hold each other accountable.
Mentors
Joining the Lab is a whole lot of what you get when you hire me as a one-on-one coach. But it's a whole lot more than that. We will always support you so you know what step to take next.
Community… accountability… inspiration… support… education and training… experts… time-saving resources…
Save tremendous time
With our step-by-step "Roadmaps" and downloadable templates.
From fundraising to leadership to board building to strategy to managing a staff… there is SO much to learn and do.
In the Lab, we offer step-by-step "roadmaps" that walk you through our education trainings, taught by me and a group of brilliant experts.
All of the content is also organized by topic and subtopic, and there's a powerful search engine as well.
And if you need more help, the entire Lab staff is available to help.
In fact, each of the "Big 3 Priorities" has its own roadmap.
Your Twin-Engine Jet
This is all about developing a critical partnership, a real authentic partnership with your board. And it all starts in the cockpit. With your board chair and Executive Director. Co-pilots. It's time to reboot your understanding of what it takes to run a thriving nonprofit.
You'll learn how to…
Set a weekly leadership meeting agenda. When you make the most of your time together, ensure nothing big gets left out of the discussion, and keep the conversation at the right altitude (so you don't spend 10 minutes talking about what time works for each of you to meet with a toxic board member of a board prospect), you're off to a great start.

Get clear on roles and responsibilities.

 

The single best sign of a thriving nonprofit is the relationship between the board chair and the Executive Director. But that doesn't mean all decisions are made in tandem. There are certain things the ED must handle and other things that are under the purview of the board chair.

Run great board meetings.

 A great board knows its role. Board members are fully engaged in the right ways. They evangelize and fundraise. They bring in new contacts and cultivate connections that grow the organization's resources. They feel a sense of common purpose.

Handle troublesome board members.

One troublesome board member has the potential both to diminish the effectiveness of and destroy the camaraderie within your board. In fact, one bad apple could motivate the good apples to go find another basket. It's important that you and your co-pilot agree on the definition of a bad apple and how to deal with it before irreparable damage is done to your board culture and/or organization.

Build the board of your dreams.

Building a great board is critical to the long-term success and stability of your nonprofit organization. Like I always say, "The board you have is the board you built."
Next, you learn to build your "Army of the Engaged"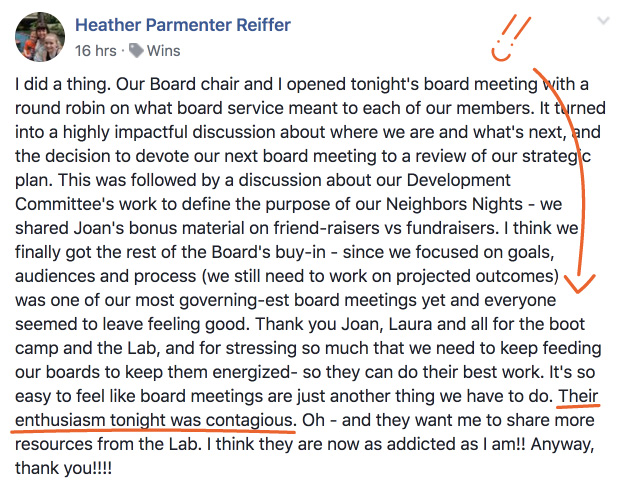 Your "Army of the Engaged"
When you reach more people, fire them up about your organization's mission, and invite them to join you in the work, everything changes for you. This is how you grow your reach, your resources, and your organization's bank account.
You'll learn how to…
Engage your board in fundraising. This action step is designed to address the 'paralysis' that often sets in when you ask your board and staff, "Do you know anyone we can ask to [fill in the blank]?" When put on the spot like that, it's nearly impossible to come up with names. In fact, some might become defensive and withhold names because they are skeptical about what you're planning to do with them.
Keep your board engaged between meetings. It's hard enough to keep board members engaged during board meetings, right? But it actually turns out that one of the very best ways to do that is to keep them engaged between meetings. Why? Because when they are engaged between meetings they've kept your organization in their heads and hearts and may even have done some good work. They'll want to strut their stuff.
Train your board to become great storytellers. We all want our nonprofits to resonate with a growing audience, and there's no better way to attract people than through sharing great stories. Becoming a great storyteller is absolutely critical to growing your army of the engaged, and it's a skill that can be learned.

Equip and train your best ambassadors.

Your board, staff, and volunteers are some of your organization's best ambassadors. As such, it's important to equip them with accurate talking points and train them—especially board members—how to track their meetings and conversations in a customer relationship database.

Spread the word far and wide.

Building an army of the engaged means the more people who know what you do, the more you will be invited to do. Here we introduce you to some of the basic tenets of media training, how to get press on the cheap, and how to build and engage an audience on Facebook and Instagram. We want your organization to be out there, to be visible, and to squeeze every little bit of juice out of anything you put out in the public space.
You've built your army… now become a great leader!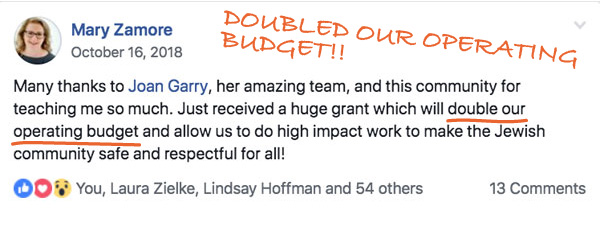 Invest In Yourself As a Leader
To be a great leader you have to invest in yourself. You've got to develop certain skills and prepare to face challenges because people are really counting on you. Time management. Delegation. Mindset. How to get out of the weeds. Focusing on the bigger questions, the bigger issues you can tackle. How you can make the best and most valuable use of your time, for yourself, and for your organization.
You'll learn how to…
Create healthy boundaries and habits.

When you work at a nonprofit, everything feels like life and death. Sometimes it is. How do we avoid the express train to "burnout-land" and stay mindful and healthy while doing such passionate work? It's so easy to get caught up in the day-to-day, moment-to-moment urgency of life and work. It's also unhealthy.

Build a solid financial foundation.

As a nonprofit leader, it's critical that you understand certain financial terms and best practices. This course will teach you the fundamentals you need to know as you build a solid financial foundation for your nonprofit.

Get more comfortable with money.

We all have our personal "money stories" that create judgements, patterns, and beliefs that are often laden with stress. The good news is that you can re-frame your feelings about 

money

 in a way that will lead to better outcomes for you and your nonprofit.

Knock your next event speech out of the park.

It's only a matter of time until you give your next event speech. This checklist includes some tips and tricks that I use to take the fullest advantage of the opportunity while responsibly engaging the audience.

Review great leadership books.

Who's got time to read? Well, we read all the time and have curated a list of "must-reads" for you. In fact, Joan has recorded overviews of some of her favorites. Inside the Lab, we even have optional online book clubs you can join!
But this is just the tip of the roadmap iceberg inside the Lab…

I was looking for mentorship and to learn from other leaders. I, myself, did not 'grow up' in the nonprofit arena. One of the best results I've gotten [from the Lab] is 
I've gone from a board of four members to a board of twelve, fully engaged.
 Our work has gone off the charts!
I came across the Nonprofit Leadership Lab and jumped at the opportunity. Smartest thing I ever did. Read through the resources, listened to the Q&A live sessions, asked questions, 
learned how to build a board, how to fundraise.
 I actually serve on seven nonprofit boards. Oh, it's a whole new ballgame and I'm so grateful for what I discovered in the Leadership Lab.
Be lifted up by our remarkable community.
Our "Village" will advise you, support you, inspire you, and hold you accountable.
We've all experienced it… the loneliness of leadership.
It's especially hard when you lead a small nonprofit and so much falls on your shoulders.
But being part of a group of like-minded people who get you and understand you can make all the difference – especially when you're feeling overwhelmed.
Being active in the community will help you get further, farther, faster, and hold you accountable to the three big priorities.
Me, our entire Lab team....
And our extensive network of nonprofit experts
Joining the Lab is a lot of what you get when you hire me as a one-on-one coach. But it's a whole lot more than that. We will always support you so you know what step to take next.
I jump into the Lab's private Facebook group for live Q&A sessions once or twice each month to directly answer your burning nonprofit questions.
And every single question anybody has ever asked is available to you in a searchable and browseable database. It's almost like magic!
And if you still need more help, you can immediately ask your fellow members in the private Facebook group. I am personally very active in this group, as is the entire Lab staff.
If you've read this far, then I know that you're serious but there could be a few thoughts running through your mind.
Things like…
"I'm not sure I have time for this."
Believe me, I know how busy you are. But think for a moment about how much time you could save just by using the templates and not having to reinvent the wheel. The Lab will help you focus on what is most important rather than most urgent.
The materials are available to you 24/7 whenever you need it. It's simply not necessary to "keep up". But to help you avoid feeling overwhelmed, we only add a couple of new items each month, and you can get through most of them in 20 or 30 minutes. That's it.
"What makes this different from other communities?"
Between the guided roadmaps, the amazing people, the extensive Q&A database, the expert lessons, and on and on… it really is quite different from anything else out there. Here are six more ways we're unique.
Board and Staff Together
There is NOTHING like this out there for board leaders. FULL STOP. Board leaders are so often ill equipped for the job. Not because they lack the skills, but because the role is unclear and nuanced and can be hard. Hearing from staff leaders unfiltered has helped so many become better board members.
Lots of Different Sectors
In our community space, the Village, you are never alone. You will post something and someone who has had a similar experience will chime in with a cyber-hug and sound advice. We have a large variety of sectors represented (more than 40!) and connections get made which can result in collaborations.
Authenticity, Humor, Accessibility
There are other good resources out there, for sure. But while instructive, they are often clinical and somewhat antiseptic. Nonprofits are messy! So we need to be real, authentic, and genuine. We work to keep your spirits up with joy and humor.
Lots of Me
Most mornings I jump into the Lab over coffee to provide advice and assistance. I love it! Sometimes I'll even post from the beach. If I'm speaking at an event, I will often organize local "meetups" to meet Lab members in person. People often say I'm like a supportive neighbor.
Our Lineup of Experts
We regularly bring in 5-star experts in event planning, fundraising, getting press on the cheap, legal, management, self-care, finance and more. We also bring in authors of new books that we feel will build your leadership skills, such as Kathleen Kelly Janus, author of Social Startup Success and Beth Kanter, author of The Happy, Healthy Nonprofit.
Our Kind and Attentive Team
The Lab team participates daily in the community and acts as your advocate and champion. We are dedicated to your success. We listen, respond, and help you find what you need. And if we don't have it, we work hard to get it for you.
"Can I get my organization to pay for it?"
Of course! Some organizations will pay for professional leadership development (here's a one-pager you can download right now to help your cause). In other cases, members pay out of their own pocket because their organizations won't cover it but they know how big an impact the Lab will have, both on them individually and to help them better achieve their mission.
You can share this one-pager with your organization to help explain why they might consider covering the cost.
"What if I try it out and decide it's not for me?"
No worries at all! You only pay for one month at a time and you can cancel any time you want with no further payments whatsoever. If you cancel, you retain access to the Lab until your current month is up. That's it.
Enroll Now
Just $42 per month
Intentionally kept affordable for small nonprofits.
I want to keep the cost very low so I can help as many nonprofit leaders as possible. I so want to help you advance your mission, your career, and help you find a healthier work-life balance.
Just think about the ripple effects that has on the world. I think about that all the time.
Cheaper than a daily cup of coffee.
This comes to $1.40 per day.
Consider that over the course of a year, if the Lab helps you bring in just one additional $500 donor… just one… it's more than paid for.
That's all it takes.
My board chair and I took the Lab's strategic planning mini-course and it totally changed our thinking about how to engage in strategic planning with limited resources. It was incredible. 
The value of this one course to us was far more than it costs to be in the Lab for an entire year.
---
And as I said earlier…
You can cancel at any time with no further payments.
---
But… Fair Warning!
The Lab enrollment period closes on September 26th at 11:59pm ET
There is a specific reason the enrollment period for the Lab is only available for such a short period of time.
I want to focus on serving our members. Enrollment periods are a lot of work and can distract from our core mission, which is to help our members thrive. So, I only open the doors for a short time and then my focus shifts back to our members.
It will be a while before the doors open again, and likely the price will be higher next time.
"This sounds AMAZING! Can I join with my co-pilot?"
Yes you can!
Inside the Lab we teach that the single best sign of a healthy nonprofit is a strong relationship between the board chair and the Executive Director – the co-pilots.
And so we want to encourage you to participate in the Lab with your co-pilot!
If you sign up during this enrollment period, we will send you a 30% off coupon you can use to sign up your co-pilot at a significant discount.
Please note: This is ONLY available to members who have signed up by the end of THIS enrollment period. We have never offered this before and we have not yet decided if it will be offered again in the future.
Right now, you have three choices…
1. You can do nothing.
But what is going to change for your organization or in your life if you just keep doing what you're already doing?
2. You can go it alone.
This is an absolutely valid choice to make. But I can tell you t takes longer. It's harder. It's a lot more frustrating.
Or…
3. You can let me support you…
And become part of something much bigger
The question to ask yourself is, do you have the time to figure it all out on your own? And what kind of impact would that lost time, frustration, and stress have on your life? On those you serve?
As you look to make a decision,
just know this…
The Nonprofit Leadership Lab is transformational.
The Nonprofit Leadership Lab is a program that I know can transform your organization and your life as a nonprofit leader. It can help you have a huge impact without burning out.
Business as usual will only bring more of the same.
Look, if you're under-funded or under-resourced, you simply can't have the impact you want. If you're already spending 18 hour days working to get your nonprofit humming and it's not working, what will change if you don't change anything about what you're doing?
You can change the world. And the world needs you more than ever.
Let me be your guide as you reach the next level on your journey to building a thriving nonprofit.
I can't wait to meet you, to find out all about the great work you're doing, and to support you
so you can have the biggest impact on those you help AND those you love.
Have Additional Questions?
Who is the Lab for? Is it really meant for Executive Directors?
The Lab is absolutely perfect for leaders of small nonprofits:
Executive Director

s

Founders

Senior staff who report to the E.D.

Board chairs

Board committee leaders
Why the focus on small nonprofits?
Perhaps one of these situations sounds familiar?
An Executive Director who can't possibly take a vacation – ever – because if she missed a week all the work would literally stop.
A sole staff member that could have oh-so-much more impact if only there was remotely adequate funding.
A board chair who often bickers with the Executive Director and is frustrated that board members don't raise nearly enough money.
Nonprofits are messy. They're hardwired that way.
There's rarely enough money, too many cooks, and an abundance of passion. Messy.
As the leader of a nonprofit – especially a smaller one – this messiness makes you feel exhausted and overwhelmed a lot of the time. You're being pulled in a million directions and sometimes you feel all alone.
Wouldn't it be so nice to have a board with deep pockets? A large staff? A brand everyone has heard of?
Sure. Big nonprofits have some nice advantages. Though many of these challenges can happen at big nonprofits too.
In many ways smaller nonprofits have it tougher.
Why? Because larger, well-funded nonprofits have the capacity to get outside help. They can hire consultants, fundraising experts, have their board get expensive ongoing training, spend for professional development opportunities or expensive donor software.
That's a big advantage.
But at a smaller nonprofit like yours? Not a chance.
It's a big problem. And one we aim to fix.
Is the Lab good for people who haven't started their nonprofit yet?
While our focus is on helping existing small nonprofits thrive, there are certainly members of the Lab who joined so they can get their nonprofits started the right way, right off the bat.
What does the Lab cost?
We get it. Most small nonprofits don't have a budget for professional development. It's very possible this is coming out of your own pocket.
So we know how important it is to keep this as affordable as possible. The Lab should not be a burden.
Since the price may change each time we open the doors to new members, we don't publish the price until the doors are open. That said, we can assure you that the monthly cost of the Lab is less than:
You spend on coffee each month

That gym membership you rarely use

3 movie theatre tickets per month (or 2 in New York City)

Your internet connection
In other words, we offer everyone the "small nonprofit rate".
Will you ever increase the price?
As long as you keep your membership active, you'll be grandfathered into your price. Even when new members come in and pay more, you'll get to keep your lower price.
Do most members pay themselves, or do their orgs pay the membership fee?
It really is a split. Many Lab members do pay for this out of pocket. Many others have their organizations pay for the Lab out of a professional development budget. 
Do you offer annual memberships?
We do not currently offer annual memberships though this is something we are considering for the future.
Can I cancel any time I want?
Yes!
Monthly members pay for the Lab just one month at a time and can cancel any time you want. 
Once you cancel your account you will retain access to the Lab until your current monthly subscription period ends. You can, of course, rejoin during any future open registration period at whatever the current price is at that time.
Can I share my membership with someone else in my organization?
The entire goal is to help you build a thriving nonprofit so clearly you need to be able to share some of the material to do that. For example, if there is a template or checklist or something like that and you want to copy it and use it internally with other folks at your organization, that's expected and entirely fine. Our policy is one account = one person. So, while you're welcome to bring people in to watch a video course together, we do ask that you not share your login. Additionally, only you would have access to the Village.
I'm busy! How often is new content released?
Roughly once per week and our goal is to keep it easy and non-stressful to consume.
Time is the most valuable resource we have. So we can understand why you might be wondering if you have enough time to fully participate in the Nonprofit Leadership Lab and get everything you possibly can out of it.
The good news is that once you join, the Lab is available 24/7. So you can learn when it's most convenient for you. If something comes up and you miss a few days or even a couple of weeks, it's not a problem. You just pick up where you left off.
How much time it will take to go through the materials depends on you. Many weeks you should be able to get through the material in 30 minutes or less. That's it. The key is to intentionally schedule some time on your calendar specifically for your personal leadership growth.
And, of course, you'll definitely want to spend time with the community.
We know how busy you are!